[Updated] WhatsApp To Implement Instagram Stories Feature Called "Status"
WhatsApp team is leaving no stone unturned to make it a unified app for every major feature that a user wants. In the past 4 months itself, we have seen the app adding features one by one which are useful in their own ways and some are now daily used features for users, with Video Calls and GIF Support being the latest additions. Now, being the most popular messaging app why not to add something more to make it one stop for all messaging needs like AndroGuider is the one stop for all your tech needs.
This image above is the courtesy of
WABetaInfo
Twitter account. We have seen apps like Snapchat and Instagram that have this facility already in the form of Stories. Screenshot above tells that users will be able to do the same thing on WhatsApp, it will allow users to share limited time media which can be text, image or video. Followed by the same interface from Instagram Stories, users will be able do all the things that they did on Snapchat & Instagram on WhatsApp itself and can get rid of Snapchat and Instagram (in case they are using it for the Stories feature only).
Not only this, users will be able to scribble on images and videos so that they won't miss out any sort of functionality that Status should do. The word "STATUS" is sort of an off thing here but maybe the team wanted something different and maybe that matched WhatsApp, so, ya Status!
Another shot that the user posted is about the main interface when Status feature gets activated. Here we can see a new circular icon which includes a little + icon. This icon represents Status. Just tap on that icon and you will be taken to the interface from where you can post those limited time statuses visible to All or Selected contacts. Yes, that thing is awesome right?
Modifications have been made to Tabs also, Contacts tab will be replaced with Status tab and this tab might contain the statuses from your friends and contacts that are on WhatsApp. Also, that camera tab is also a thing to notice that can be a direct shortcut to post Status.
This new status is currently available (hidden) in 2.16.336 beta version of WhatsApp and in order to enable it you need to be on a rooted device.
And now the main interface goes like -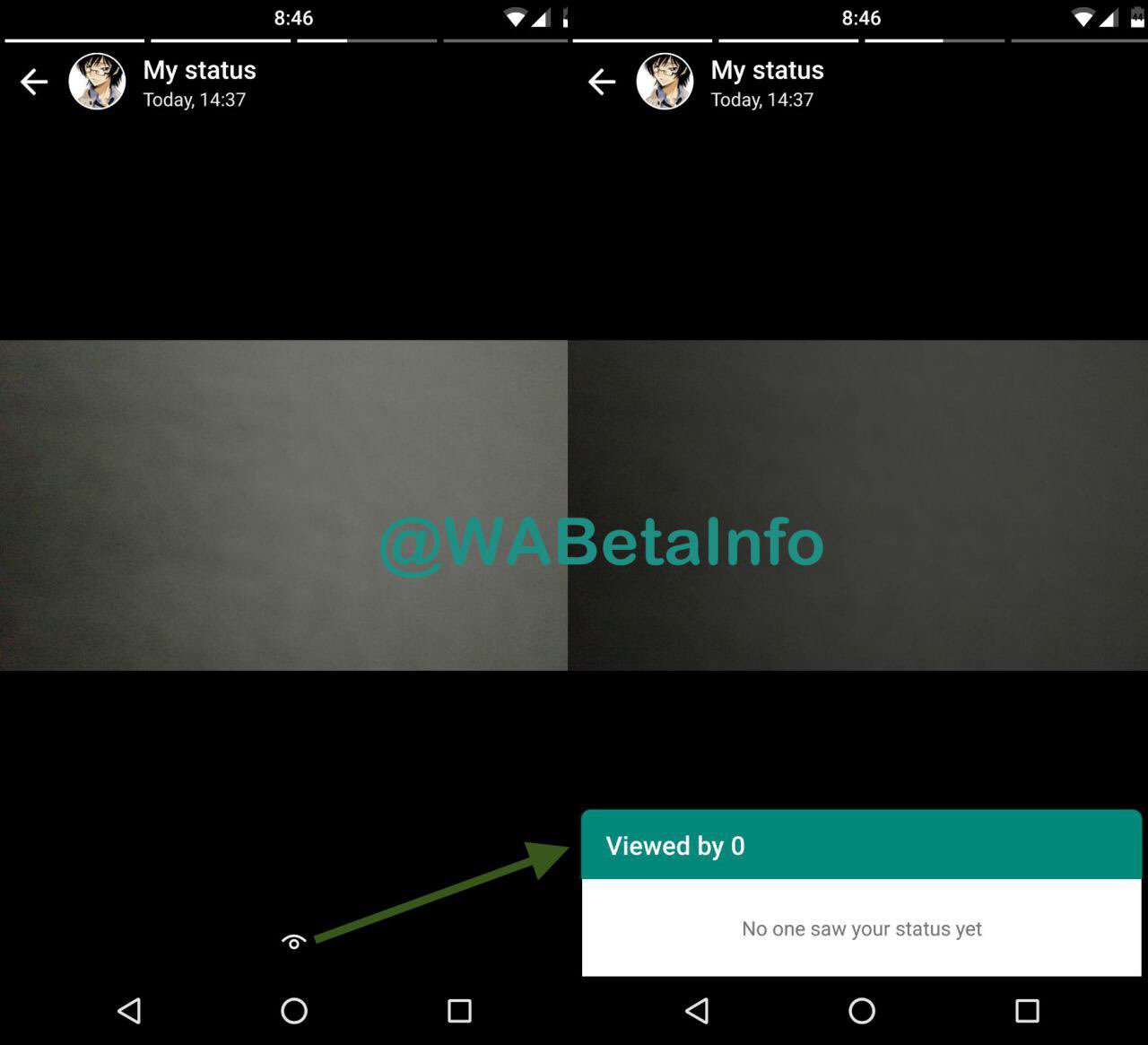 Very similar to Instagram stories, right? Well, that little eye down at the bottom is the button that shows who watched your stories. To our opinion, WhatsApp has tried to keep it very simple and no major revamp that disturbs the regular functionality of the app. Once the team gets enough feedback then it will go live in future updates. Wait for it! We will keep you posted.
We have got some new images about the Status interface which shows how will the Status posted from users' friends and the user itself will appear. Courtesy of WABetaInfo who tried to enable this hidden feature and posted on his Twitter handle.
[Updated] WhatsApp To Implement Instagram Stories Feature Called "Status"
Reviewed by
Rajat Kapoor
on
11/08/2016 12:00:00 PM
Subscribe To Us
Get All The Latest Updates Delivered Straight To Your Inbox For Free!